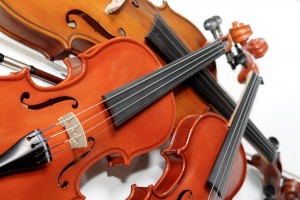 Would you like fun and interesting violin lessons for yourself, your child or teenager?
I am a friendly, professional and committed teacher with many years of experience who can give excellent quality tuition to you or your family on your musical journey.
I teach violin to children, teenagers and adults from beginner to Master's Degree level.
Whether you would like to play the violin for fun, relaxation, to perform, play in groups or take exams I can help you achieve this.
Lessons can include music from a range of musical styles including classical, pop, rock, folk, world, film and musicals.
It's important to me that students enjoy the type of music they are learning, so I tailor the lesson content to each student's musical interests. So you or your family can choose any or a combination of the musical styles I teach.
Lessons are backed up with solid technique so students can see super progress in their playing and gain a rewarding sense of satisfaction and achievement.
Lessons are fun and interesting and the overall aim is for students to enjoy the musical experience and develop skills and confidence.
It's nice to know that as well as fun and enjoyment, a happy bonus of playing an instrument is that it improves brain skills. This includes planning, strategising and attention to detail.
I love teaching and like to create a welcoming, comfortable atmosphere where students can thrive.
I'm also encouraging and reliable. I teach each student as an individual and tailor my teaching strategies to suit the student.
It is fantastic to see a person at any stage enjoying playing a piece of music or lighting up with achievement when they have learned a new technique. Its's always super to hear a student say, 'can I play that piece too.'
Lessons take place at my home and I teach music reading with the instrument. Violinists learn amongst other things, pieces, musical style, how to develop their musicality, studies, left hand and bowing techniques and how to play in an ensemble.
I give goals to provide motivation and students are welcome to take exams if they would like to. I use nationally recognised exam boards and have coached many students through exams. My students have an excellent pass rate. As well as their hard work this is also as a result of me preparing them well technically, musically and psychologically. Exams can be nerve-racking so I give my students help and advice so they find them less so.
I play three instruments and regularly accompany in lessons so students can experience playing music with an experienced musician and develop their ensemble playing skills.
I also use recordings of musical instruments in lessons so students are able to play along with orchestral, band, ensemble or group music which is great fun and experience.
Playing an instrument is enjoyable, relaxing and rewarding either just for yourself or sociably.
As a musician I have performed solos, and in many groups orchestras and ensembles.
So I have the experience to give help, training and advice on taking part in musical activities and performing to friends, family and in performances, festivals and concerts.
As well as my many years of experience teaching students of all ages and abilities, I have a Master's Degree in Performance, a Bachelor of Music Degree and a Postgraduate Certificate in Performance.
I have performed in some of London's most famous concert venues and in world premieres, broadcasts and recordings.
I have taught individual and group lessons in schools, in my teaching practice at home and have coached ensembles and large music groups.
With my teaching and performance experience, I can give you or your family excellent quality music tuition and a fun, enjoyable musical experience that is life enhancing.
20, 30, 45 and 60 minute sessions are available. My lesson rates are £11.66 for a 20 minute session, £17.50 for a 30 minute session and £35 for a 60 minute session. You can be totally assured of superb quality and experienced teaching.
Send me a text or email and we can have a chat about you, your child or your teenager's musical aims and I can give you advice on the best programme of lessons for you.